There's no denying that 2018 was a great year for gaming. With an excellent pool of AAA titles, as well as Indie hits, last year built up some serious momentum that doesn't seem to be slowing down in 2019. With a new year, comes the release of a bunch of new games that fans have been dying to get their hands on.
So we thought we'd take a moment to go over some of the best upcoming games for 2019 and beyond, as well as some games that might not be on your radar just yet. We'll be ordering these based on anticipated release date windows as of now, so make sure to check back for any changes or announcements in the future.
Days Gone
Release Date:  April 26

| PS4
Although the zombie-game craze has been dying down in recent years, Days Gone looks to be delivering its own take on a post-apocalyptic setting. The game has you playing as Deacon St. John, a gruff bounty hunter that's coping with the loss of his wife while trying to survive in a dangerous world brimming with flesh-hungry zombies called 'Freakers'.
Players will explore the game's Pacific Northwest open-world by motorcycle, scavenging for supplies and encountering other survivors, some friendly and some deadly. Days Gone will feature a dynamic weather system as well as a day/night cycle that affects zombie behavior. Additionally, players will be able to upgrade Deacon's motorcycle with new parts, set zombie-traps, and use an array of weapons to defeat massive hordes of zombies.
Rage 2
Release Date: May 14

| PS4, Xbox One, PC
Rage 2 is a first-person shooter developed by id Software in conjunction with Avalanche Studios. The game is set 30 years after the events of Rage, and has you controlling Walker, the last surviving ranger in a post-apocalyptic world that's been inhabited by deadly mutants following an asteroid collision on Earth.
Aside from a huge sandbox open-world filled with traveling bandits and enemy strongholds to explore, you'll have access to an array of superhuman abilities, called Nanotrites, which allow for unique traversal and combat options. Among these is a Dash ability that zips Walker forward in the direction he's moving, Shatter, which sends enemies flying, and Overdrive, which causes guns to do more damage and regenerates health.
Team Sonic Racing
Release Date: May 21

| PS4, Xbox One, Switch, PC
Even though the blue blur's foray into street racing hasn't 'transformed' the racing game scene like Sega had hoped, developer Sumo Digital is looking to change that with Team Sonic Racing by making some major changes to the kart racer's formula. Players will be able to choose from a roster of 12 playable characters and compete on 21 different racetracks in the game's four modes: Grand Prix, Team Adventure, Exhibition, and Time Trial.
New for Team Sonic Racing is the addition of team-based maneuvers, which allow players to work together during races. There are a handful of team combos currently known, such as Slingshot, a move that allows other characters increase their speed by following a trail left behind by their teammates.
Total War: Three Kingdoms
Release Date: May 23

| PC
Three Kingdoms is an upcoming turn-based RTS game developed by Creative Assembly and published by Sega. It'll be the 12th mainline entry in the Total War series and take place during the Chinese Three Kingdoms time period. Players will choose to control one of the game's eleven factions, and must defeat the remaining ones in order to become ruler of all of China.
The game will feature two modes: Romance, in which generals are granted superhuman strength, and Records, which presents a more historically-accurate experience. Creative Assembly has made a number of quality of life improvements to the game such as adjustments to AI and a refined UI.
Little Friends Dogs and Cats
Release Date: May 28

| Switch
Little Friends is an upcoming pet simulator that's sure to melt even the coldest of hearts. The game allows you to choose from a variety of puppy and kitten breeds to raise and care for, with activities like grooming, feeding, and playing all essential to maintaining your pet's happiness and strengthening your bond with one another.
Aside from different kinds of animal breeds, the game comes packed with hundreds of different accessories and pieces of clothing for your pet to show off while going for walks or participating in pet competitions. Little Friends seems perfect for anyone who has nostalgia for the Nintendogs games or wants a furry pal without any of the real world mess.
GTFO
Release Date: Spring | PS4, Xbox One, PC
Details surrounding GTFO's story are scare but so far we know that the game centers on four main characters, each with their own quirky personality: Woods, Dauda, Hacket and Bishop. These characters are being held prisoner by a sinister entity known as The Warden, and are forced to explore underground complexes brimming with terrifying monsters.
The game has players teaming up in squads of four and exploring levels that are part hand-crafted, part procedurally-generated. During missions, players will work together and communicate to solve puzzles, find supplies, eliminate waves of enemies, and complete tasks requested by The Warden.
Crash Team Racing Nitro-Fueled
Release Date: June 21 | PS4, Xbox One, Switch
In an era where Mario Kart holds a monopoly over kart racers, Crash Team Racing Nitro-Fueled, a mouthful of a title, is looking to carve out a space for itself. With the success of Crash Bandicoot N. Sane Trilogy, Crash Team Racing is getting the remastered treatment as well, appearing on a lot more consoles this time around, including Switch!
Leaning heavily on the nostalgia many have for the classic PlayStation title, CTRNF will be bringing back all the original characters, tracks, and karts fans remember along with some bonus content beyond the original game. While Naughty Dog isn't behind this new version, developer Beenox has stated their main goal with this game is authenticity.
Super Mario Maker 2
Release Date: June

| Switch
Super Mario Maker first appeared on the Wii U back in 2015, and was later ported to the 3DS. Since then, fans have been wondering when and if Nintendo would announce a sequel for the Switch. Now we know Super Mario Maker 2 will be coming to the console and will bring a ton of new features along with it.
The game will include the ability to build slopes in levels, allowing Mario Makers to craft authentic Super Mario Bros. 3-style levels for the first time. Next, new themes such as Desert, Snow, Jungle, and Forest have been added and will provide more variety for designing stages. Lastly, new types of blocks and enemies have been added, giving players the opportunity to design more challenging levels for others to try.
Dragon Quest Builders 2
Release Date: July 12

| PS4, Switch
While Dragon Quest Builders 2 was released in Japan back in December 2018, fans have been waiting for an announcement of a Western release. The latest Direct confirmed that the sandbox title will be dropping later this summer, and is much bigger and more ambitious than the first Builders.
Just like the first game, which provided an alternate version of the events from the original Dragon Quest, the sequel will be using the events from Dragon Quest II to tell a new story. Dragon Quest Builders 2 features a larger world size as well as more natural landscapes, the ability to glide, dive underwater, character customization, and online multiplayer.
Marvel Ultimate Alliance 3: The Black Order
Release Date: July 19

| Switch
It's been a decade since the last Ultimate Alliance game and we're stoked to get to form bands of heroes from across the MCU roster. First revealed at the Video Game Awards 2018, the latest Nintendo Direct trailer for Ultimate Alliance 3 revealed that Captain Marvel would be joining the game as a playable character.
Other playable superheroes include members from the Avengers, Guardians of the Galaxy, Defenders, Inhumans, and X-Men. With both local and online multiplayer support, Ultimate Alliance 3 will be even better with friends as you team up to pull off powerful combo maneuvers.
Wolfenstein Youngblood
Release Date: July 26

| PS4, Xbox One, Switch, PC
Set 19 years after the events of The New Colossus, Wolfenstein: Youngblood is a first-person shooter that has you taking control of series protagonist BJ Blazkowicz's twin daughters, Jessica and Sophia. The game is a spin-off, standalone title in the same vein as 2015's Wolfenstein: The Old Blood.
In it, BJ has gone missing while in Paris, calling the twins to action as they embark on a mission into the French capital, which is still heavily controlled by the Nazi regime. Probably most exciting, and a first for the series, is the fact that Youngblood will offer a fully functional two-player mode for its story campaign in addition to a single-player version.
Fire Emblem: Three Houses
Release Date: July 26

| Switch
February's Direct gave us an update on Fire Emblem: Three Houses, currently being developed by series veteran Intelligent Systems. The next major entry in the long-running strategy-RPG series, and first Fire Emblem game to appear on the Switch, is slated to release later this year. Three Houses will no doubt be a huge exclusive for the Switch and breathe new life into the series both visually and gameplay-wise.
The game takes place on the continent of Fódlan, which is divided into three nations with a central area that's home to a monastery and academy. Three Houses has you play as Byleth, a teacher at the academy who begins having visions of a mysterious girl only they can see. Combat has you training students out in the field, where life and death are determined by your abilities as a leader.
Control
Release Date: Aug 27

| PS4, Xbox One, PC
Control is a third-person shooter that seems to carry over a lot of the themes and mechanics from developer Remedy's past works like Quantum Break and Alan Wake. In it, you play as Jesse Faden, a woman who's granted supernatural abilities after a traumatic childhood experience.
Players will be able to use Jesse's abilities in combat, which allow her to manipulate weapons and objects in the environment to take down enemies. The game will be mostly linear and feature some Metroidvania elements, such as acquiring new powers that allow you to reach areas that were previously inaccessible.
Astral Chain
Release Date: Aug 30

| Switch
Astral Chain is a new action game from Platinum Games and is being directed by Takahisa Taura, designer for Nier-Automata. Additionally, Hideki Kamiya, director of Bayonetta, is supervising the game's development. This means we can expect fast-paced combat and plenty of large-scale enemy encounters.
The game takes place in the Ark, a massive and prosperous city that's hit by disaster when mysterious dimensional gates start appearing.  Dangerous creatures begin invading the Ark, attacking its citizens and taking over the city. As a rookie officer for the Neuron special task force, you and your "Legion", a living weapon you have control over, will have to work together to save humanity.
RAD
Release Date: Summer 

| PS4, Xbox One, Switch, PC
RAD is set in a twice irradiated 80s-inspired post-apocalyptic world. The 3D action rogue-like has you controlling a teenager who must brave the forces of the Fallow wasteland and venture into caves brimming with exotic and deadly creatures.
The further you explore, the more likely you are to experience mutations that range from growing a pair of wings that allow your character to fly or a detachable boomerang arm that can be used as a projectile weapon. RAD will feature daily challenges and leaderboards for confident players that want to see how their skills matchup against others'.
Biomutant
Release Date: Summer

| PS4, Xbox One, PC
Biomutant is an action RPG set in a post-apocalyptic world filled with mutated animals and has you controlling a customizable raccoon-like character that can wield a variety of weapons. How players design their character will affect gameplay, with attributes like gender, body shape, fur thickness, and fangs all having an impact on character stats.
Your goal is to save the Tree of Life, the source for all living creations, which has become polluted and is under constant attack from enemy creatures. Along the way, you'll encounter an array of mutations and bio-mechanical body parts such as robotic legs, wings and claws which can be attached to provide an edge in battle or reach new areas.
Luigi's Mansion 3 (Working Title)
Release Date: TBA

| Switch
While Nintendo still hasn't confirmed a release date for Luigi's Mansion 3, we're still hopeful it'll be out before the year is through. The game has Luigi going on a new spooky adventure, this time inside a much larger mansion that contains multiple floors to explore.  Gameplay seems like a return to the first Luigi's Mansion formula, allowing you to explore the mansion freely instead of selecting specific missions.
Parts of the game's trailer suggest that Luigi will have to rescue more characters this time around, as framed portraits of Mario, Toad, Princess Peach, and Luigi himself, are shown with "X" marks over their faces. Luigi's gadgets have been upgraded since Dark Moon, as we can see the green plumber wielding the new and improved Poltergust G-00. The powerful vacuum cleaner used to suck up ghosts comes with some new abilities like the Strobulb, which stuns enemy ghosts, and can fire toilet plungers at enemies.
Indivisible
Release Date: TBA

| PS4, Xbox One, Switch, PC
Indivisible is an indie RPG developed by Lab Zero Games, best known for creating the 2D arcade fighter Skullgirls. The game has you play as a young woman named Ajna, who upon discovering a hidden power within herself, sets off to find the ones responsible for the destruction of her village.
Gameplay is inspired by classic RPGs like Valkyrie Profile and has you engaging in combat with enemies in real-time via an ATB-style battle system, which forces characters to recharge before their next attack. Indivisible features 25 different party members, called Incarnations, with each character having multiple attacks and unique roles to fill.
Doom Eternal
Release Date: TBA

| PS4, Xbox One, Switch, PC
Doom Eternal is the sequel to the 2016 Doom reboot and is the fifth main title in the series. The first-person shooter will be developed by id Software and has players taking on the role of Doom Slayer once again.
The game will maintain the franchise's flashy, ultra-violent combat, while also bringing some new features to the table. Aside from a host of new enemy types, Eternal brings an arsenal of new weapons for players to mow down demons with, including a shoulder-mounted cannon/flamethrower, an extendable blade, and a new dash ability that makes the twitchy shooter feel even more fast-paced.
Psychonauts 2
Release Date: TBA

| PS4, Xbox One, PC
It's been over a decade since the last Psychonauts and after a few failed attempts, fans had begun to lose faith they'd ever get a sequel. However, after a successful crowdfunding campaign, developer Double Fine Productions is on track to release Psychonauts 2 later this year.
The game will maintain the third-person platforming of the original game and have players assume control of Raz once again, picking up after the events of the VR title Psychonauts in the Rhombus of Ruin. The sequel has Raz uncovering secrets about the Psychonauts organization and will explore the curse that has plagued protagonist's family history.
Animal Crossing
Release Date: TBA

| Switch
While we did get confirmation that a new Animal Crossing game is coming in 2019 during a Nintendo Direct, there hasn't been any news since. However, the reveal teaser that was shown featured Tom Nook in all his raccoon glory looking as crisp as ever.
Many were hoping to see Isabelle become mayor in the next title but with her busy fighting in Smash Ultimate, we'll most likely be taking on the mantle of mayor once again with a new character. We're hoping the new Animal Crossing offers a bigger world with more areas to explore and travel to as well as more options for decorating our homes and a diverse cast of animals.
The Surge 2
Release Date: TBA

| PS4, Xbox One, PC
The Surge 2 is a third-person action RPG developed by Deck13 Interactive and published by Focus Home Interactive. Ditching the preset protagonist from the first game, players will create a customizable character and be thrown into Jericho City, an urban wasteland brimming with dangerous mechanical foes.
The sequel carries over the same challenging Dark Souls-inspired combat of the first game, while also adding some new layers. Among these is a limb-targeting system which has been expanded, as well as new abilities, weapons, implants, and drones for players to take advantage of.
Ooblets
Release Date: TBA

| Xbox One, PC
Ooblets is a life sim inspired by games like Stardew Valley and Animal Crossing with a bit of Pokémon sprinkled on top. In it, you play as a customizable human character who owns a farm. Aside from tending to your land and growing crops, the world around you is inhabited by Ooblets, small creatures that come in all shapes and sizes and can be collected.
Together, you and your Ooblets will go on new adventures, battling other trainers, having dance parties, and exploring different islands. The game oozes cheerfulness and seems like it'll provide a laid-back experience for players who enjoy the finer things in life, like assigning their character a different hairstyle for each day of the week.
Tunic
Release Date: TBA

| Xbox One, PC
Tunic is an Xbox-exclusive indie action-adventure title inspired by The Legend of Zelda. Although the game wears its Triforce-shaped heart on its sleeve, it looks to be carving out a space for itself with its stunning environments and mysterious story.
In it, you play as a weapon-wielding fox that wakes up in a world where you don't belong and begin exploring to learn more about the strange world around you. The game utilizes an isometric perspective and features a combat system that relies heavily on timing attacks and dodging.
Pokémon Sword & Shield
Release Date: TBA 2019

| Switch
We now know that the new Pokémon games will take place in the UK-inspired Galar region, and will feature a variety of locales that includes small rural villages, bustling urban cities, icy mountains, mineral-rich caves, and huge arenas. The game will also mark a shift in art style for the series, with the new games taking on a cel-shaded look while maintaining the 3D perspective present in more recent entries.
Like every other mainline Pokémon game, Sword & Shield will feature new creatures to catch, including some that are exclusive to each version. With rumors circulating that Game Freak may be looking to make some drastic changes to how combat and catching is performed, we're excited to learn more about these upcoming games.
Ghost of Tsushima
Release Date: TBA

| PS4
Ghost of Tsushima is an upcoming action-adventure stealth game currently being developed by Sucker Punch studios, best known for creating the Infamous series. The game has you playing as Jin Sakai, the last samurai alive on Tsushima Island during the first Mongol invasion of Japan.
Ghost of Tsushima will reportedly feature an extremely large open-world that can be explored freely without any waypoints or form of guidance. The protagonist will use a katana as his primary weapon, and also has access to a grappling hook that can be used to climb ledges and a horse for travelling long-distances.
The Outer Worlds
Release Date: TBA

| PS4, Xbox One, PC
The Outer Worlds is a first-person action RPG that comes from Obsidian Entertainment, most known for their work on Fallout: New Vegas. The game is set in a future where mega-corporations have begun colonizing and terraforming alien planets and has players creating an original character.
While traveling through space, something goes awry, leaving your ship stranded at the edge of a space colony. The game features first-person combat and the option to recruit NPC companions with unique skills that can be used in battle. The Outer Worlds will place an emphasis on player-choice, allowing you to choose how you approach quests and form relationships with NPCs.
Afterparty
Release Date: TBA

| Xbox One, PC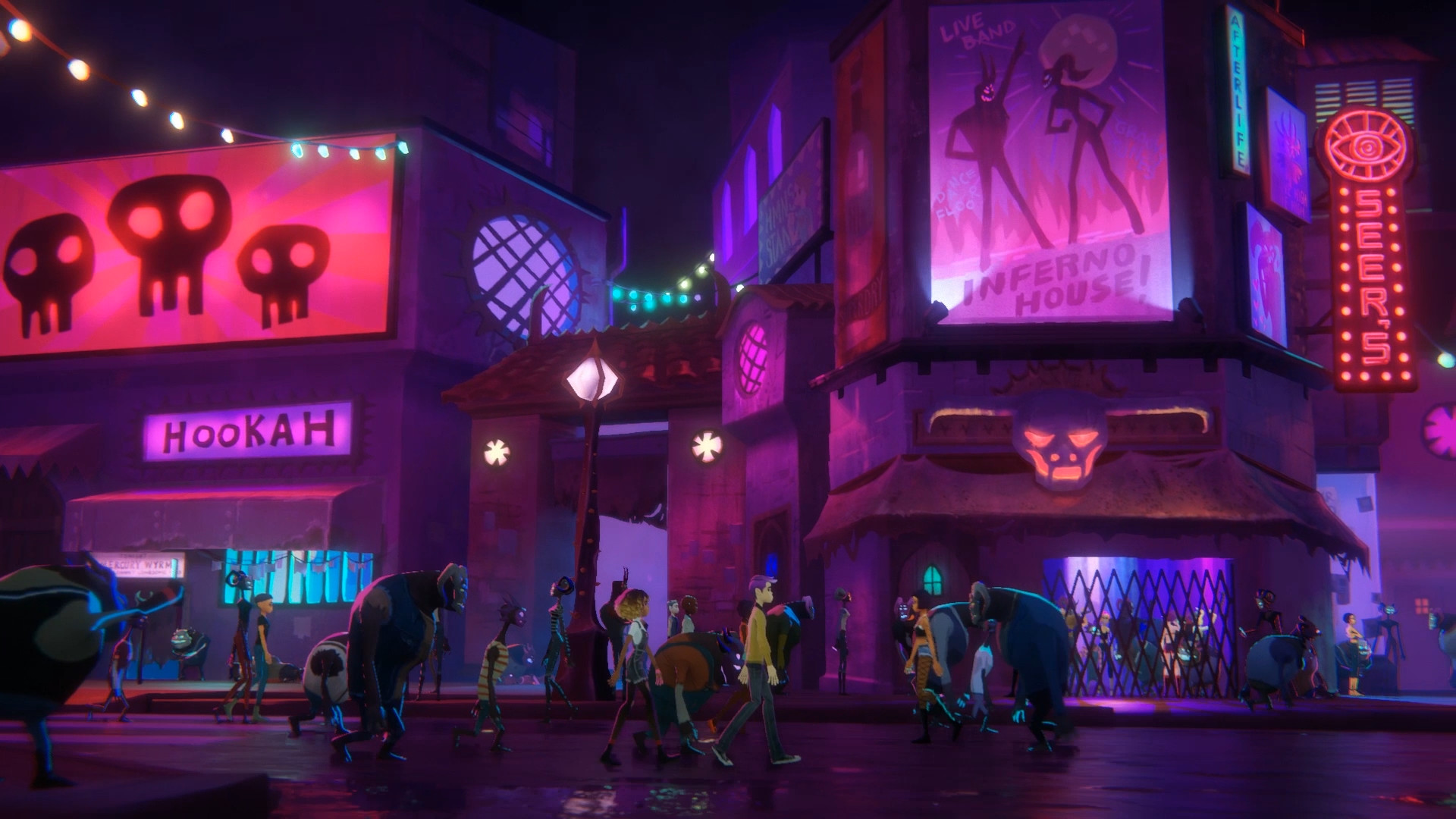 Afterparty is an adventure game developed and published by Night School Studio, who first debuted in 2016 with Oxenfree, the supernatural adventure game that let players affect the story through branching dialogue selections. The upcoming title seems to share a lot of the same DNA as Night School's last project, this time transporting players to the depths of Hell on a quest to outdrink Satan and return to the world of the living.
However, Afterparty appears to have a much lighter tone than Oxenfree, and has you controlling two friends, Milo and Lola, who have recently died and find themselves trapped in the underworld for all eternity. In order to escape, they'll have to take on a series of intoxicating challenges and visit bars across Hell's many islands. Also, you can flirt with Satan.
Outer Wilds
Release Date: TBA

| PC
Not to be confused with The Outer Worlds, another game on this list, Outer Wilds is an upcoming action-adventure game developed by Indie studio Mobius Digital and published by Annapurna Interactive. The game has you playing as a recruit for a space program, exploring a strange solar system that's stuck in an infinite time loop.
It has a similar look and feel to No Man's Sky. However, unlike NMS, each of the game's worlds is carefully crafted by hand and not procedurally-generated. Outer Wilds seems like it'll deliver an interesting space adventure packed with plenty of mysteries and planetary secrets to unravel.
Spelunky 2
Release Date: TBA

| PS4, PC
Spelunky 2 is an upcoming 2D-platformer with some Roguelike elements, being co-developed by Mossmouth and Blitworks and self-published by Mossmouth. The game maintains many of the first Spelunky's mechanics and themes in addition to upgraded visuals and a host of new characters, enemies, obstacles, and treasures.
The game will have players controlling a spelunker, exploring a series of procedurally-generated caves while collecting treasure, battling enemies, and avoiding traps. One of the best parts of the first game was how unique each run felt, so it's good to see Mossmouth sticking to the same formula for this sequel. Among Spelunky 2's refinements are new liquid physics, which affect how water and lava will flow throughout the game's caves.
Session
Release Date: TBA

| Xbox One, PC

Ever since the collapse of the THPS and Skate series, we quite simply have not seen a good skateboarding sim or really any skateboarding games at all. Luckily developer Crea-ture Studios is planning on changing that later this year when they put out the Xbox-exclusive Session, their take on a realistic skateboarding game.
Unlike some of its predecessors, Session will focus more on technical skill, utilizing a unique control scheme that promises to feel a lot closer to how skateboarding feels in real life. Additionally, the game will not have to not feature a scoring system, encouraging players to experiment and capture tricks they feel most proud of using the game's multiple in-game camera options.
Bayonetta 3
Release Date: TBA

| Switch
With a reputation for delivering and often exceeding fans' expectations, developer Platinum Games is looking to hit a home run for the third time in a row with the next installment in the Bayonetta series, now exclusive to the Nintendo Switch.
With practically no details known, the most we can do is take a look back at the success that was Bayonetta 2, resurrecting the franchise and serving as a foundation for what Platinum plans to do with the action series in the future. Expect more stylish combos and refined gameplay as Bayonetta 3 heads further into development.
The Last of Us Part II
Release Date: TBA

| PS4
The original The Last of Us managed to capture the hearts and minds of many players and critics thanks in large part to its emotionally-gripping story, which followed the relationship between Joel and Ellie.  Developer Naughty Dog is back with a sequel and the world can't wait to see what's happened since we last saw these characters.
The Last of Us Part II takes place five years after the events of the first game and has players controlling an older version of Ellie as she encounters a dangerous cult in a now post-apocalyptic United States. Neil Druckman, one of the game's story co-writers, has stated that the sequel will focus on 'hate' instead of 'love', unlike the first game. The game will introduce several new characters that all play an essential role in Joel and Ellie's next journey.
Hollow Knight: Silksong
Release Date: TBA

| Switch, PC
Silksong was initially planned as DLC for Hollow Knight; however, developer Team Cherry was very ambitious in creating the project and kept expanding upon their initial ideas until the game felt large enough to warrant a sequel. While the game will retain many of Hollow Knights core Metroidvania elements, it will be using them in slightly different ways.
For one, players will be controlling Hornet, a curious bug-like creature who uses a needle to fight. At the start of the game, Hornet gets captured and taken to a haunted kingdom. Players will have escape the kingdom by making their way upwards instead of downwards like the first game, encountering over 150 new creatures along the way.
Gears 5
Release Date: TBA

| Xbox One, PC
Gears 5 will be the latest entry in the long-running Xbox-exclusive third-person shooter series. The game is being developed once again by The Coalition and will have players controlling Kait Diaz, an outsider of Locust descent, for at least a majority of the game.
As Kait, you must journey across the huge world filled with deadly creatures in order to uncover the origins of the Locust, with characters from previous games making an appearance. Gears 5 will support local split screen and online multiplayer as well.
The Pathless
Release Date: TBA | PS4, Xbox One, PC
The Pathless comes from developer Giant Squid, the studio behind Abzu, and has you playing as a female hunter exploring a vast landscape, filled with misty forests and ancient ruins.
Gameplay will consist of solving puzzles, climbing huge creatures, and engaging in battles with the aid of your companion, an eagle you form a close bond with throughout the game. Just like with Abzu, Giant Squid looks to be showing off their creative knack for depicting nature in a stunning, stylized manner as well as developing excellent traversal mechanics in The Pathless.
Battletoads
Release Date: TBA

| Xbox One, PC
It's been decades since Battletoads fans were able to join Rash, Zitz, and Pimple on their epic beat 'em up adventures. And thanks to Microsoft and developer DLaLa Studios, the cult classic from Rare will finally make its way to a modern console.
The title is currently being developed as an Xbox One exclusive and will support three-player local couch co-op as well as 4K graphics. Although we don't know much else, expect that to change in the near future as the year progresses.
Halo Infinite
Release Date: TBA

| Xbox One, PC
It's been years since we got a new Halo game, so it's great to hear that the popular Xbox-exclusive first-person shooter will be making a comeback. Halo: Infinite will utilize 343's brand new Slipspace Engine, which was created alongside the game's development and allows for significant visual upgrades.
We're expecting the game to take place during the Reclaimer Saga, a series of games set after the events of Halo 3. Additionally, Infinite will most likely delve deeper into Master Chief and Cortana's relationship and be more focused on telling a more serious story. Don't worry, we're sure you'll still get to blast aliens with space guns.
Final Fantasy VII 
Release Date: TBA

| PS4
Fans have been waiting a long time for a new version of the 1997 PlayStation 1 classic Final Fantasy VII. Although a remaster of the game is planned to release in April, people have been waiting for more information regarding the full remake that's currently under development.
As of now, we know that the FFVII Remake will be released episodically and is a retelling of the original game's story which follows mercenary Cloud Strife as he attempts to bring down the corrupt Shinra mega-corporation and Sephiroth. In addition to assets that have been completely remade, the game will feature a new combat structure, which fuses real-time action with strategic elements.